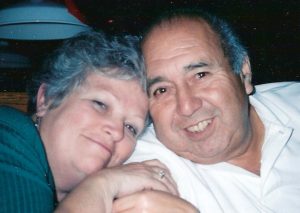 Judy Santiago and her late husband Joe Santiago Sr. founded the Santa Visits Alviso Foundation back in December 1983 following the devastating March 1983 Alviso flood with just a bag of candy canes and a Polaroid picture with Santa. The Santiago legacy still continues and the Santa Visits Alviso Foundation annual celebration of giving has become the largest annual event in Alviso. Today our program is able to fund our yearly holiday event where 800-900 people attend with books and gifts for the children, a family picture with Santa and a BBQ put on by Zanker Recycling.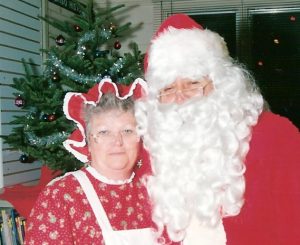 The Santa Visits Alviso Foundation seven member non-profit 501(c)3 board members volunteer their time, drawing no salaries, and continue with public meetings and funding for reading programs at the Alviso library, free swimming and lessons at the Alviso swimming pool, sports activities and other educational programs for the Alviso community. Our main focus is our scholarship program that provides scholarships for Alviso students working towards higher degrees, empowering our youth to invest in their futures and attend institutions of higher learning, plus we plan to continue supporting our working relationship with George Mayne Elementary School.
The Santa Visits Alviso Foundation has received numerous awards for their work in the Alviso Community and will continue to support future generations of this community.
Mission Statement
The mission of the Santa Visits Alviso Foundation is to provide educational, leadership, and community enrichment opportunities, through financial aid, advisory, and community enrichment programs. SVAF is an all volunteer 501(c)3 organization with no paid employees. Specifically, the SVAF raises and distributes funds for scholarships and community activities to improve access to postsecondary education. Our philosophy is to encourage all individuals to meet their highest potential through education, volunteerism, and community support thereby enhancing the quality of their lives and strengthening our local community. Our vision is to help our students and their families develop a self-image and a keen awareness of continuity.
We believe in the shared responsibility of the SVAF and the broader community to advance the quality of life and future options of its children and young people. Our major sponsors are vital to the success of our mission, and they are close partners in our efforts. We have a flawless record of multiplying this major support, creating highly effective programs, and obtaining recognition for our major sponsors. More than $1,000,000 in scholarships have been distributed since 2006 to needy applicants.
Working in close partnership with Alviso's Library and Youth Center, the Santa Clara Unified School District, and the City of San Jose the SVAF brings educational and community enrichment services to hundreds of children each year from the Alviso Community and beyond, helping individuals gain the skills and confidence necessary for long-term success In education, careers, and positive family and community life.
SVAF ongoing success is due to the great depth of skills and experience represented on our Board of Directors and the generosity of time, talent, and monetary donations of hundreds of community members who wish to share in this people-helping-children concept that enriches both the givers and the receivers. Over the last 39 years the SVAF has received numerous commendations and recognition from local, and state leaders and in 2012 received the La Familia award from the Hispanic Foundation of Silicon Valley.
To Donate or Mail us:
Santa Visits Alviso Foundation
P.O. Box 1012
Alviso, California
95002-1012
Make Checks payable to: Santa Visits Alviso Foundation
All donations are tax deductible. Please contact your financial advisor.